Had the pleasure of interviewing Ivy and Tara from Kittie last night at BB Kings in NYC. I had interviewed Mercedes from the band right at the end of last year. I have to say that her interview was one of my favorites, as we talked for close to an hour, although about half of that was edited out. Although this interview originally aired back in January, I do intend on releasing both of the interviews together as a podcast during the course of the next few weeks. This was the first time I have caught the band, and they did not disappoint. They played fifteen songs total, you can tell that they are extremely happy with their last album In The Black, as they played six songs off of the album. During the interview Ivy and Tara confirmed that Kittie will indeed be touring with Insane Clown Posse.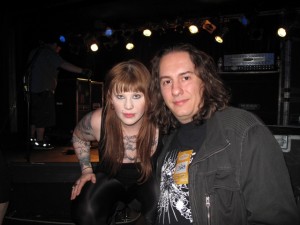 Opening for the band was God Forbid, this was my second time seeing them, as I had seen them at the Kobetasonik festival in Spain last June. For those of you keeping score I interviewed guitarist Doc Coyle back in November. At the time things were somewhat in limbo with the band, they were looking for new management, a new label, and working a new guitarist into the fold (Matt Wicklund, who I saw back stage). Byron announced during the show that they were recording a new album which should be out at some point during this year. The set list focused on Earthsblood and IV: Constitution of Treason. Aside from songs off of their previous two releases, they played Pantera's Mouth For War during their set. After their show I had Doc right behind me sporting a Metal Sucks t-shirt, he was watching Kittie's show and had someone with him at the time. I didn't see it prudent to walk up to him and bug him, in any event, will be posting his interview shortly as well.
Opening act was Gwen Stacy, unfortunately, didn't get to catch much of their show, although they did sound great as well.
Thanks to Bill from E1 for making everything happen.
Tomorrow night's Mars Attacks will go live, I will have interviews with Joey Z from Life Of Agony/Steromud/Carnivore, Anthony Esposito from Ace Frehley/Lynch Mob, and Mark & John from Talking Metal. This is my second go round with Joey; the last time we spoke was right before L.O.A. went out and did the shows in Jersey and NYC commemorating the twenty year anniversary of the band. The podcast version of the interview is available here:
https://marsattacksradio.com/2010/03/audio/podcast-episode-2-life-of-agonys-joey-z/
The show starts at 7PM EST / 4PM PST exclusively on MarkStriglRadio.com