STEVEN BRADLEY FROM IWRESTLEDABEARONCE (IWABO) AND RASMUS BOOBERG OF NEW KEEPERS OF THE WATCHTOWERS
During this episode, you'll hear two interviews, one with Steven Bradley from Iwrestledabearonce (IWABO) and another with Rasmus Booberg from New Keepers Of The Water Towers (NKOTW).
Interesting how both bands go by their initials. In any event, I spoke to Rasmus while he was in Stockholm, soaking up the sun. We discussed their album Chronicles which came out on Meteorcity Records. We also discussed their soon-to-be-released EP The Caledonia Hunt, his gear, being invited to play the Roskilde Festival, and the possibility of having another full-length out later this year.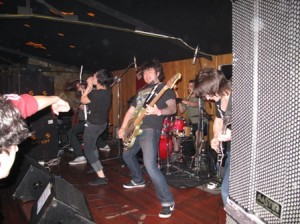 Steven talks to me about everything from gear, to why he, Krysta, and John have lasted in the band, Hurricane Katrina, the possibility of touring with the Bacon Brothers, and what are some of the more common questions thrown at the band.
Podcast: Play in new window | Download
Subscribe: Apple Podcasts | Google Podcasts | Spotify | Stitcher | Blubrry | JioSaavn | Podchaser | Gaana | Podcast Index | Email | TuneIn | Deezer | RSS | More