TARA AND IVY OF KITTIE JOIN THE SHOW
During this episode, you'll find two interviews, one with Ivy and Tara from Kittie, and another with Mercedes.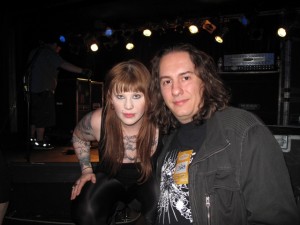 The first part of the episode was conducted in March while Kittie was touring with Gwen Stacy and God Forbid. The latter half of the episode consists of an interview that was conducted back in December. Had a great time conducting both, everyone was really down to earth when I spoke to them, and as I mention during both interviews, I feel that they should be considered pioneers.
One thing I really wanted to point out which I forgot to mention during the podcast is Tara's playing style.
During the interview, you'll hear her sort of play down her influences, or better yet things that she listens to outside of metal. The first song in their set starts up, the solo kicks in, and she starts fingerpicking during the solo, I mean blue-grass style! I don't know if that's where she got it from, but it was pretty cool to see her whip that out! And no, I wasn't expecting midgets….er eh, little people!
Podcast: Play in new window | Download
Subscribe: Apple Podcasts | Google Podcasts | Spotify | Stitcher | Blubrry | JioSaavn | Podchaser | Gaana | Podcast Index | Email | TuneIn | Deezer | RSS | More