I've been trying to figure out for days what I should say regarding Ronnie James Dio. I personally did not know the man, nor have I ever had the pleasure of interviewing him. That said, I did have the pleasure of seeing him in concert back in 2008 with Dio, and have also had the pleasure of growing up to his music. There have been several music related deaths that have affected me, Def Leppard's Steve Clark, the tragic loss of Dimebag Darrell, Pete Steele, but three in particular stand out, they are Eric Carr from Kiss, Freddie Mercury from Queen, and now Ronnie James Dio. Why these three stand out is simple, I grew up on their music.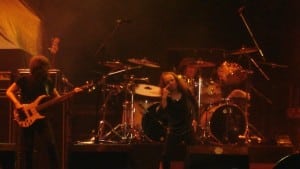 Although my cousin's had the 45 for Paranoid/Iron Man, my first real intro to Black Sabbath was hearing the song Heaven And Hell on someone's K-Tel compilation. The moment I heard that opening riff I was hooked. How could you not be? The legendary bass line, the aforementioned riff, the various tempo changes in the song, and Ronnie's majestic singing. Unfortunately at that age I was too young to go out and purchase the album, but was lucky that in those years radio was very free formed, and you could hear tracks like Die Young, and later Mob Rules on the NYC airwaves.
Not long after a friend of mine (Kim Gladish) bought a K-Tel compilation for me called Masters Of Metal, I've done a show based on this album, due to the fact that this album had such an impact on me. One of the tracks on this album was Dio's Rainbow In The Dark, again another classic track that instantly hooked me. By this time MTV had taken off, and you could watch videos for songs like Holy Diver, The Last In Line, the aforementioned Rainbow In The Dark. At this same time radio was giving you album tracks like Don't Talk To Strangers, Mystery, and later on in the decade Sacred Heart, Rock N Roll Children, I could Have Been A Dreamer, etc. The power of his voice was immediately identifiable when it came on the airwaves.
My love for music in general really took off towards the end of the 80s, my high school years, the advent of CD and the death of vinyl and cassettes. What this meant was that I could buy a boatload of vinyl or cassettes for very cheap! As a result I was able to get my hands on such classic albums as Heaven & Hell, Mob Rules, Live Evil, Holy Diver, Last In Line, Intermission, and Lock Up The Wolves.
But the tipping point for me was Dehuminizer. I loved everything else that came out, but that album just had something about it. It is by far my favorite Sabbath album, and without a doubt is my second favorite album of all time. It has raw aggression, it has power, melody and harmonies, it is just a crushing album that was originally panned by a lot of critics, but also loved by many, including me. Tracks like Computer God, After All The Dead, Letters From Earth, Master Of Insanity, I, Buried Alive, etc. all classics in my mind!
After Dehuminizer his work with Dio reconvened, and he continued to put out monster albums Strange Highways, Angry Machines, and the very underrated Killing The Dragon. I realized that I haven't mentioned some; I'm just touching upon what stood out most in my opinion. Again, a lot of these albums were panned by some because he was traversing different territory, but it seemed like a reenergized Dio with the inclusion Tracy G to the lineup and later Doug Aldridge.
I was elated when I heard that Heaven & Hell (Black Sabbath) was getting back together, touring, and putting out what to me was one of the best albums of 2009. I was really upset when a prominent host trashed the album without listening to it more than once, and then mentioning that he had only listened to parts of the album. To me The Devil You Know has that same classic feel that previous albums like Heaven And Hell and Mob Rules. If you're a fan how can you not like Atom And Evil, Fear, Bible Black, Eating The Cannibals, Neverwhere and Breaking Into Heaven? To each their own, but I think these albums stand up well in comparison to other classic tracks that have been released by the group.
Recently I have been able to get my hands on Tournado which contains what is up till now the last recorded material released by Dio, a track called Electra. I immediately uploaded the song to MarkStriglRadio.com so that all of you hear this great new track.
It was very disheartening to hear that Dio had cancer; I have unfortunately seen too many people around me die from this disease. Like everyone out there we all wanted him to pull through, and it looked as if he would. H&H had announced summer dates throughout Europe, I immediately started planning my trip to Madrid to see them take part in this year's Sonisphere. As you all know by now, the dates were cancelled, and a short time later the rumors started flying around that he had passed away. The following day I read the heart breaking news that he had passed away. I have been shocked, and at a loss for words since then, and really didn't start to collect my thoughts until I put together my Fusion Sonica, and Mars Attacks tribute shows for Ronnie, and was able to listen to the interviews Eddie Trunk had conducted with so many great artists that had come in contact with him.
I could have done something similar to the Pete Steele tribute, after all I had previously interviewed some of the same people Eddie spoke to, but honestly didn't feel like it was the right thing for me to do. Instead I felt the best thing to do would be to put the show you'll hear tomorrow night on MarkStriglRadio.com. And believe me this show was not easy to put together. Seriously, how many great tracks did Ronnie sing on? From Elf, to Rainbow, to Sabbath and Dio, but what about Stars? How about collaborations with such groups as Queensryche, Deep Purple and Dog Eat Dog? The Mars Attacks tribute show lasts three hours, and contains over 30 songs, celebrating the legacy of Ronnie's music. Again, to me this is the most fitting tribute that I can offer, and hope that you the fans of not only my show, but of Ronnie's music enjoy what I have put together.
Long Live Rock N Roll, Long Live Ronnie James Dio, truly the King Of Rock N Roll! He will live on for an eternity in our hearts, and minds.
Mars Attacks Thursdays 8PM EST / 5PM PST exclusively on MarkStriglRadio.com check the top right hand corner of MarsAttacksRadio.com for replays.