BLITZ FROM OVERKILL AND JOSE BARRALES FROM BONDED BY BLOOD JOIN THE SHOW
During this episode, we speak to Blitz from Overkill and Jose Barrales from Bonded By Blood. The original intent was to release this episode sometime back in July, but with all of the circumstances revolving around my life it made things difficult to do so.
For those of you that don't know my wife had been pregnant and was bedridden for most of two months. Unfortunately, she had a miscarriage a little after this interview was conducted, and life was pretty much put on hold. A little after this happened my company had to make some difficult decisions to help the company stay afloat, and anyone that had unemployment benefits was let go.
And you guessed it I was given the pink slip at the time. With all of this said, things could be worse and as my brother always says, no matter how bad things are, there is always someone that's worse off than you are. Luckily, things are looking good for the future, so I can't really complain.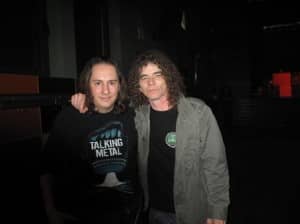 In any event, the interview with Blitz was done back in January before Ironbound, Overkill's latest album came out.
Among the items discussed during this interview are Ironbound, and subsequent tour, the early days of Megaforce Records, the "Big Four", his 30-year musical partnership with DD Verni, Randy Blythe of Lamb Of God, Mike Portnoy of Dream Theater, the NY Steel Benefit Show, the project he did with Dan Lorenzo called The Cursed, Hail! and his involvement in Turtlehead!
During Jose's segment, we discuss how the band was started, comparisons to other bands, some of the festivals they were about to play when the interview was conducted, and the recording of their latest album Exiled To Earth
The following tracks are featured during the episode:
Bonded By Blood (off of Exiled To Earth) – 600 A.B. (After The Bomb), Genetic Encryption and Prototype – Death Machine
Overkill (off of Ironbound) – The Green and Black, Bring Me The Night, Give A Little
Podcast: Play in new window | Download
Subscribe: Apple Podcasts | Google Podcasts | Spotify | Stitcher | Blubrry | JioSaavn | Podchaser | Gaana | Podcast Index | Email | TuneIn | Deezer | RSS | More