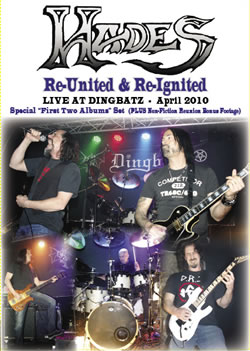 Why didn't Hades make it bigger than they actually did? The band is probably the most underrated thrash band of all time. Alan Tecchio alone is one of the greatest metal voices of all time, why isn't he held in the same regards as John Bush, Joey Bellodonna, Chuck Billy, or others like say a King Diamond that didn't venture into thrash? The rest of the band on this DVD is tremendous. It consists of Dan Lorenzo and Scott LePage on guitar. The rhythm section consists of T. Coombs on drums, and Non-Fiction's Kevin Bolembach. I see this DVD as a celebration of the band, its fans, and what should be an eye opener for most that previously didn't know the band. This DVD is raw, and live, just the way I like it! For so many years you've seen bands mask/enhance who they are, by using CGI, by paying go-go dancers to fill in the crowd, by giving away 90% of their tickets via radio contests, or redoing all of the audio in the studio. But with this DVD what you see is what you get. Again, raw, live, sweaty thrash.
The DVD kicks off with an intro from comedian Don Jamison. From here the band starts things off by quickly ripping right into Widow's Mite, and then one of my favorite Hades' tracks The Leaders? The show is sprinkled with all types of cool tracks like Exist To Resist, The Cross, and Resist Success, whose main riff has been borrowed by countless bands over the years. Continuing this theme, during Sweet Revenge you hear a section that sounds a lot like Time by Anthrax, which was released years later. The Hades portion is wrapped up by a killer version of Nighstalker.
The bonus section contains a cover of the Fleetwood Mac/Judas Priest classic The Green Manilishi (With The Two Pronged Crown) and rehearsal footage of the band prepping for the show.
As a bonus you also get a few tracks off of the Non-Fiction reunion show from a few years back. Tracks for this part of the DVD include Preface, the single In The Know, and Peaked. Cool to see the genius in Dan Lorenzo transition from the thrash of Hades to eerie/ominous riffs he composed and played while in Non-Fiction. Watch this section and try to categorize a band that was a few years ahead of its time.
I recommend this DVD to anyone that is remotely interested in either band, old school thrash, or live shows. My only complaint is I wish Non-Fiction's version of the Black Sabbath classic Voodoo appeared somewhere on the DVD! For those interested, you can purchase Re-United & Re-Ignited directly from here on Dan Lorenzo's site.